Jews United for


Democracy & Justice
Sign up for our newsletter and stay engaged with our weekly programs.
Committed to Democracy and Justice
Who We Are
Jews United for Democracy and Justice (JUDJ) is a broad, nonsectarian, non-partisan cross-section of American Jews who stand together asserting a Jewish voice to safeguard the principles and foundation of our constitutional democracy, as is consistent with our core values. Founded in the wake of the 2017 executive orders on immigration and asylum seekers, often referred to as the "Muslim Ban," JUDJ is committed to speaking out against threats levied by the current Administration to our constitution. We educate and keep people up-to-date with this Administration's punitive actions and policies, and how they bear on racial and religious tolerance, equal treatment for all in our judicial and law enforcement systems, treatment of immigrants and asylum seekers, a free and fair press, human dignity, and long-held norms of decency and civil society.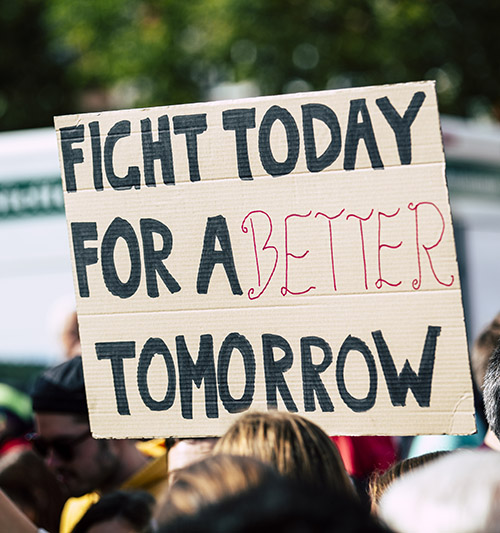 Preserving the Nation's Democratic Values
What We Do
JUDJ is committed to ensuring that the current threats posed to our norms, values and constitutional protections do not become normalized. JUDJ provides a forum to educate the public about violations regularly committed against the constitution to foster an educated, informed and mobilized public.

JUDJ brings people together within and outside the Jewish community to discuss issues threatening our democracy. We engage Jewish leaders, elected officials, journalists, thought leaders, and community stakeholders to share insights and have meaningful discussions about the state of affairs. Ultimately, we aspire to "walk the walk" of our Jewish values by working towards a common goal of preserving this nation's democratic values.
*JUDJ ( EIN 82-0742397) is a fiscally sponsored project of Jewish Center for Justice (EIN 81-4397882). which is a 501(c)(3) tax-exempt charitable organization. You may be eligible to claim a tax deduction for your contribution (please discuss this with your tax advisor)